Bangalore is known for its techie industry, wide roads, strings of flyovers and skyscrapers. The city is full of life with rich cultural heritage, overwhelming nightlife, best restaurants, great events. But sometimes we need to be away from the city life and head to the countryside that always mesmerize a tired soul with fresh air and refreshing views. Here are my top pick for weekend destination in Bangalore:

1. CHIKMAGALUR
Chikmagalur is an amazing hill station that is excellent for trekking, fresh air and perfect views. Located in the foot of Mulayangiri hills, Chikmagalur is a comfy destination during summer. The city is a hub of lush green vegetation nestled among the hills of western ghat , abundant wildlife and sprawling acres of coffee estates. Known for one of the best coffee beans plantation spot, the city is also known as coffee hub of Karnataka.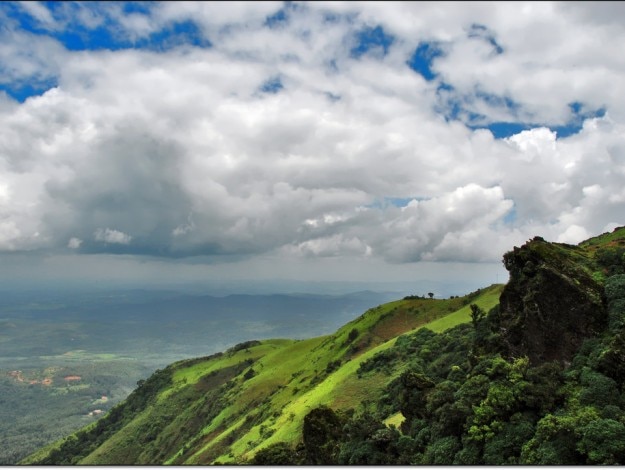 2. MYSORE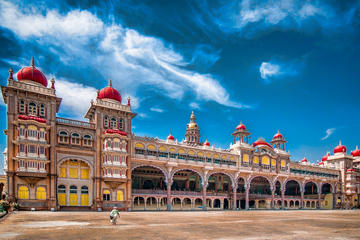 Mysore is known for its massive diversity from nature to historical architects. The famous Mysore palace is an important destination and a must visit. Mysore is also known for Mysore zoo, Brindavan garden, Chamundeshwari temple,shivasamudram falls. Mysore is one of the nearest destination from Bangalore and is a famous tourist spot.

3. SHIMOGA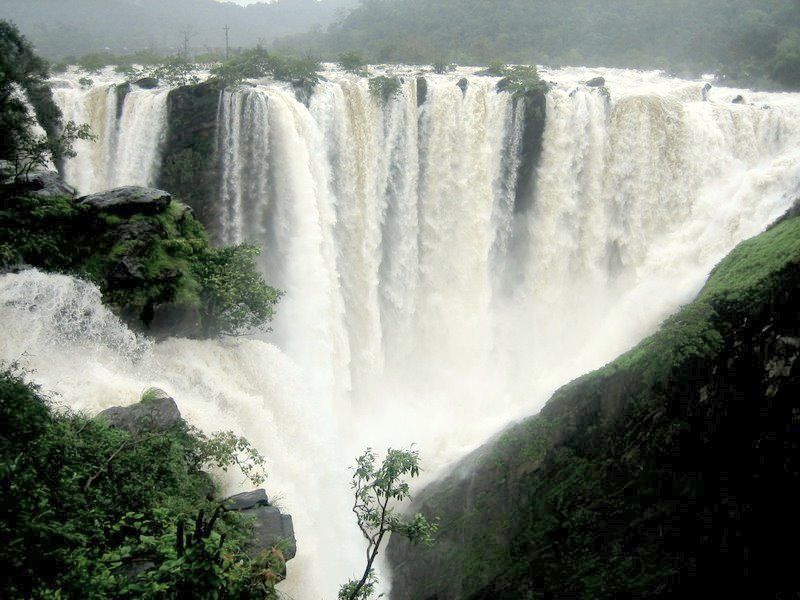 Amidst the lush green divine nature with rich cultural heritage, Shimoga is a place for travelling to serene nature. From magnificent temple erected by royal rulers to one of the unadulterated waterfalls, Shimoga is located on the bank of Tunga and Bhadra river with a wide variety of flora and fauna. The place is a must visit for nature lovers to experience the nature in all its form.

4. BIJAPUR
If you want to get lost in history and experience the medieval complex architectures, Bijapur is the ideal place to discover magnificent forts, tombs and many more. The city grown phenomenally with monuments and architecture during the reign of Adil Shah dynasty in 14th century. The city is known for the massive Gol Gumbaz which is the largest in India and second largest in the world.

5. HAMPI
Hampi is a destination ever loved by history buffs and a city of historical delight with numerous temples. The city is surrounded by boulders of stones offering an excellent place of trekking .From the hilltop, you can see the scenic beauty of the city. Recognized as one of the world heritage site, Hampi is bestowed with splendid architecture that leaves us spellbound. Hampi also houses a wildlife sanctuary that boost the growth of sloth bear.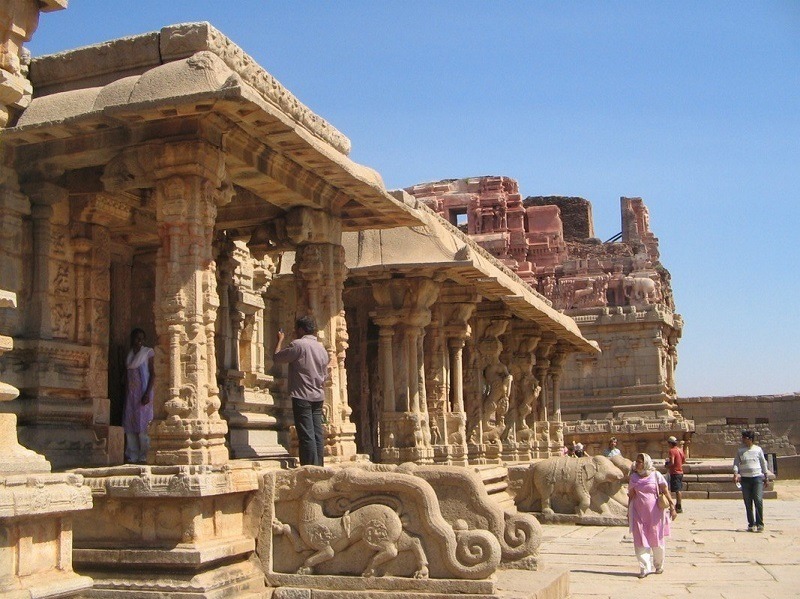 6. SAKLESHPUR
Also known as "poor man's Ooty", the hill station is safely hidden in the arms of mother nature. The magnificent hill station is situated in Malnad region in the foot hills of western ghat. The hill station draped with fogs , mist, lush greenery and the biodiversity of flora and fauna soothes your eyes and soul. The hill slopes adorned with coffee plantation , spices and wide variety of fauna turn you into a storyteller. Not limited to nature, the spot also accompanies well designed forts with outstanding architecture skills and nearby temples. Sakleshpur can be easily covered in weekends and can be visited by tourist for charming views.

7. COORG
Also known as "Scotland of India", Coorg is the place of misty hills, coffee plantation and spices. Coorg is not limited to its picturesque landscape but also known for enchanting waterfalls , amazing gardens and ancient temples. Coorg is a place of delicious dishes with spices which is not available outside Coorg. Located in the foot hills of western ghat, foggy hills wrapped with lush greenery, amazing landscape dotted with red tiled houses and criss cross road, Coorg is a place which bridges the gap between you and nature.

8. GOKARNA
The place, Gokarna is known for the beautiful sea beaches and famous temples. Gokarna derived its name from Go and karna which means cow's ear.  Gokarna is famous for Mahabaleshwar temple presided by Lord Shiva is a famous pilgrimage centre  and the festival of Mahashivratri attracts thousands of devotees from different places . The beaches of Gokarna is astounding with golden sands always washed by blue seas. The green hills surrounding the pristine beaches or the strong boulders that stands tall resisting the splashes of sea water, Gokarn's mesmerizing beauty of scenic landscape and amazing beaches is always a hot spot to relax and lay back.

9. DANDELI
Nestled among the lush green topography, Dandeli is an extension of Goa for picturesque landscape, massive river and abundant wildlife. Dandeli is a hub for adventure sports like river rafting, trekking, cycling, mountain biking and a paradise for adventurers. Dandeli is a picturesque spot for taking a long walk along the bank of river Kali. The wildlife of Dandeli is a wide diversity of flora and fauna with exceptional birds and animals. The wildlife is also an excellent place for bird watchers.

10. KODAIKANAL
Kodaikanal is one of the best honeymoon destination located in the Palani hills in western ghat. Kodailkanal means "gift of the forest" and the spot always proved it with wide varieties lush green trees, dense forest and rare kurunji flowers that blooms once every 12 years. The breathtaking hill station is adorned with misty hills, enchanting waterfalls and rock boulders of different sizes that paves the western ghat overlooking the hill station. The beautiful destination is a retreat to the visitors looking for peace and tranquility in the beauty of nature.

11. MUNNAR
The first treat while driving to the beautiful hill station of Munnar from bangalore is the beautiful national highway with dense forest on either side connecting Bangalore to Munnar. There are certain viewpoints while driving that overlooks the amazing hill station. The small hill station is embellished with perpetually tea plantation estates , coffee estates and misty hills surrounding lake. Munnar has wildlife sactuary that houses many endangered species like the Nilgiri Thar and the Neelakurinji. The moderate climate in Munnar during summer provides a relaxing stay in the picturesque landscape.

12. MANGALORE
Mangalore is one of the cleanest city in Karnataka and is an importation business center. The city is known for its swaying palms, clean sea beaches, coconut trees, sea sports and temples. The city is rich in cultural heritage with temples, church and mosques ornated with amazing crafted architecture. The delicious dishes of Mangalore is embellished with vibrant sea food and exotic spices. The pleasant environment of the city offers a calm and peaceful stay in Mangalore.

WAYANAD
Known as "the land of paddy fields", Wayanad is a popular holiday destinations for exotic breathtaking views. The beautiful spot, Wayanad, is located on the southern tip of Deccan plateau. The place is entwined with beautiful lakes, enchanting island, lovely mountain peaks and winding roads. There are many wildlife sanctuary located nearby Wayanad that protects many endangered species and is an excellent spot for wildlife photography.
14. NANDI HILLS
Nandi hills is the most nearby tourist destination from Bangalore. Embellished with boulders of rocks of different sizes, the misty mountainous site is an excellent spot for trekking, The hill is also known for exhilarating sunrise and fascinating sunset. The hill remains mostly crowded during sunrise and sunset. The hill also accompanies a stunning Ganesha temple that is located in the hilltop. The stunning landscape is a nature's abode and is a paradise for nature lovers.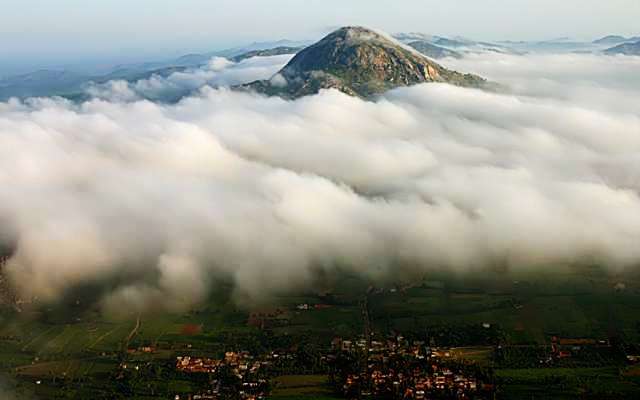 15. BHEEMESHWARI
Located on the bank of the river Kabini, Bheemeswari is a bridgehead for fishing, . The spot houses a number of fishing camps and conducts activities on fishing. The beautiful scenic spot also accompanies boat ride and trekking. The massive Bheemeshwari forest encompasses many flora and fauna which includes crocodiles, wild boars, leopards, jackals and deers. The spot is a heavenly paradise for fishing, bird watching and water rafting.

16. PONDICHERRY
The union territory which was a French colony is rich in cultural and colonial heritage. The city is dotted with yellow colored house and French cafes serving delicious steaks that contradicts the other south Indian cities. The city is also studded with gorgeous sea beaches with crustal clear sand and coconut grooves. The place is a meeting spot of Arabian sea and Bay of Bengal. Shri Aurobinda ashram is one of the most popular destination and is flocked by many travelers from nearby cities. The city also attracts many foreigners who loves the stunning beaches and french cafes.

17. BADAMI
The formerly town was the capital of the ancient chalukyas for more than two decades. The town is located amidst the rugged sandstone hillocks and is famous for beautiful caved temples carved with single stone. The spot is an architecture delight with carved temples and fortress. The city beckons the history of India and is a major spot for history buffs and devotees.

18. NAGARHOLE NATIONAL PARK
Also known as "Rajiv Gandhi National Park", Nagarhole means "snake river" and derived its name from the massive river that surrounds the dense forest. The national park encompasses a wide variety of flora, fauna, endangered species and a hotspot of biodiversity. The park houses animals like tiger, leopard, wild dog , sloth bear, Asiatic elephants, the hyena and a mix of deciduous trees. The park has nearby enchanting waterfalls that satisfies every need of nature lovers.

19. BANDIPUR NATIONAL PARK
Bandipur national park located in Nilgiris is the first biosphere reserve of the country with multitude of teak and sandalwood trees. The place is popular for its vast wildlife, perennial forests and exotic birds. The spot was once a hunting ground for Maharajas of Mysore still it comes under project tiger and now a tiger reserve in India. The place is a habitat for a number of animals such as elephants, hornbills, deers, pythons, sloth bears, pythons, panthers etc. The place is very near to Ooty.

20. KABINI WILDLIFE
Kabini wildlife sanctuary , a part of Nagarhole national park, is a famous tourist sport and attracts a lot of tourists from all over the world . Located on the bank of the river Kabini, the sanctuary houses more than 300 exotic birds and wide variety of herbivores like chitals, four horned antelopes, sambhar, wild pigs, gaur, langurs, munjtak, macaques and of course, elephants. The main alluring experience in Kabini is jungle safaris and boat riding. Jungle safaris takes you down to the midst of nature mounded with deep forest and animals like tigers, elephants, hyena, jackals, monkeys can be easily visible. Boat riding in early morning is the best thing you can do in Kabini. The early morning boat riding accompanies you with mesmerizing sunrise , refreshing breeze, crocodiles sunbathing on the river, exotic birds spreading their wings, sambhars and chitals on the water's edge.

21. COONOR
Coonor is one of the most serene hill station in the abode of nature. It is the second largest hill station in the hillock of Nilgiris in western Ghat. The site is adorned with tea plantation and famous for Nilgiri tea. The Nilgiri mountain railway is one of the oldest railway in India. The lush green misty hills is an abode of some of the exotic plants ,birds and wildflowers. Coonor also houses a botanical garden that has several missing plants and is a major tourist attraction. Unlike Ooty the place is not much commercialized and a heavenly treat for visitors in the paradise of nature.

22. Ooty:
Ooty is a popular honeymoon destination and is also known as"Queen of the hills". Ooty is a place of picturesque landscape with panoramic view of misty hills namely "Nilgiris". The imposing curly roads, the huge gardens and miniature toy train adds more grace to the amazing hill station. The spot covers perpetual tea estates, lofty mountains mounded with dense forest and is a paradise for nature lovers.

23. KANNUR
Often refereed as land of lores and looms, Kannur is bestowed with abundant natural beauty with western ghat on one side and Arabian sea on the other. The site is rich in cultural heritage accompanied with amazing beaches of crystal clear sand and coconut grooves. Kannur is well known for its flavor and a paradise for food lovers.

24. BIDAR
Bidar was considered to be the most flourishing city in south India. The city grown stupendously during 11th and 14th century and now a house for history buffs. The city is rich in cultural heritage and embellished with finest architecture. The city houses some of the ancient temples , forts and wide variety of flora and fauna along the bank of river Krishna and Godavari. The massive rivers flowing through the city offers some of the breathtaking views.

25. GOA
The mesmerizing sunset, enchanting landscape, crystal clear sands, palm grooves, coconut trees, casinos, vibrant sea food, local handicrafts defines Goa. Goa is one of the most chilling place for weekend that can hypnotize you with vibrant sea waves. The lay back beaches with shacks and restaurants are one of the most lively destination of Goa. Known for nightlife, Goa is also rich in cultural heritage that houses many temples and churches embellished with well crafted architecture. The whole city of south Goa is surrounded by water and it is always amazing to experience the free flowing rivers and deep sea dotted with boats and casinos. One of the best way to experience Goa is to stay in a beach resort and watching the flaunting waves even during night.
GOA- A LAND OF PRISTINE BEACHES AWAKENING A TIRED SOUL


Happy journey!